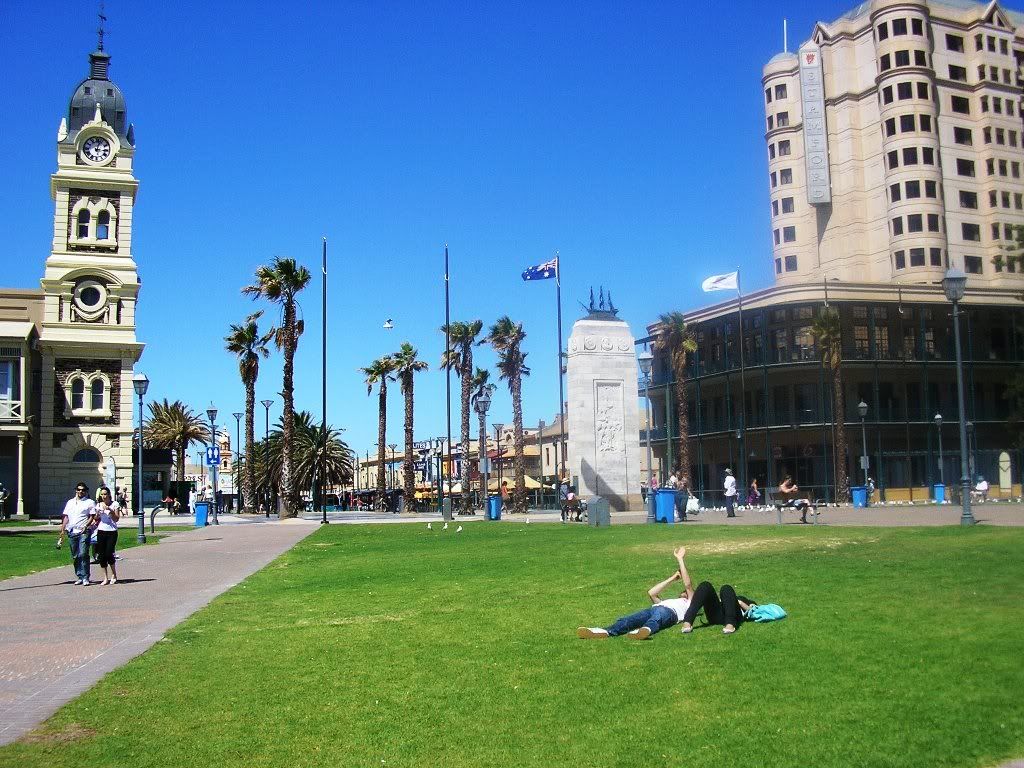 View of the Moseley Square, from the beach.
I said in
a previous post
that some say Adelaide is boring. Well, again, it is not, especially if you are the laid back beach type (just as most Aussies are). For the residents of this city, Glenelg beach is the place to be if they want a good swim or some good... surfing.
Glenelg City Hall
Located 9 kilometers from downtown Adelaide, Glenelg is a cute little beach suburb on the shore of Holdfast Bay in Golf St. Vincent. It became pretty popular among South-Australians due to numerous entertainment and leisure opportunities, as well as to its shopping and dining options. Most of these are along Jetty Road, which is also the main road that connects Moseley Square to downtown (Victoria Square).
Moseley Square
One of the cutest things is the historical Glenelg H-class tram that still operates on the only tram line in Adelaide on weekends and holidays, along with the new, modern cars, which operate on weekdays. They are beautifully preserved and the ticketing system is still the old one - buying paper tickets from a tram attendant dressed in period uniform. However, they have constantly been updated as well (with safety glass and fluorescent lights among others), so there riding them is both fun and safe.
H-Class Glenelg Tram
The Jetty Road is the stretch along which most eateries, hotels, and shops are located. You should not miss
Glenelg Beach Hostel
, the
Beachouse
, the souvenir stores...
and, hello! The Jetty and the beach.
Go to the Tourist Information Center and find out how you can
dive with the dolphins
, do
sailing
or
scuba diving
,
play golf or volleyball
, and more. You don't have to ask about surfing though - just head to the beach and go with the flow: most of the people come to Glenelg for that. There are also many walks and cycling trails to choose from, all with great views.
Or if you are the lazy type, just walk along the beach, admire the new high-rises and the sunset, have a good dinner and countless
bottles of Cooper's
in one of the relaxed, informal bars, and tell yourself how lucky you are you are in
Glenelg, South-Australia
. My 2 cents.