I came across
Drungli
while I was planning this year's holiday in Europe, which, Thank God, is going to happen pretty soon. Back to clean streets, high prices, cold people - yes! three times yes! I need that for at least one month before heading again who knows where.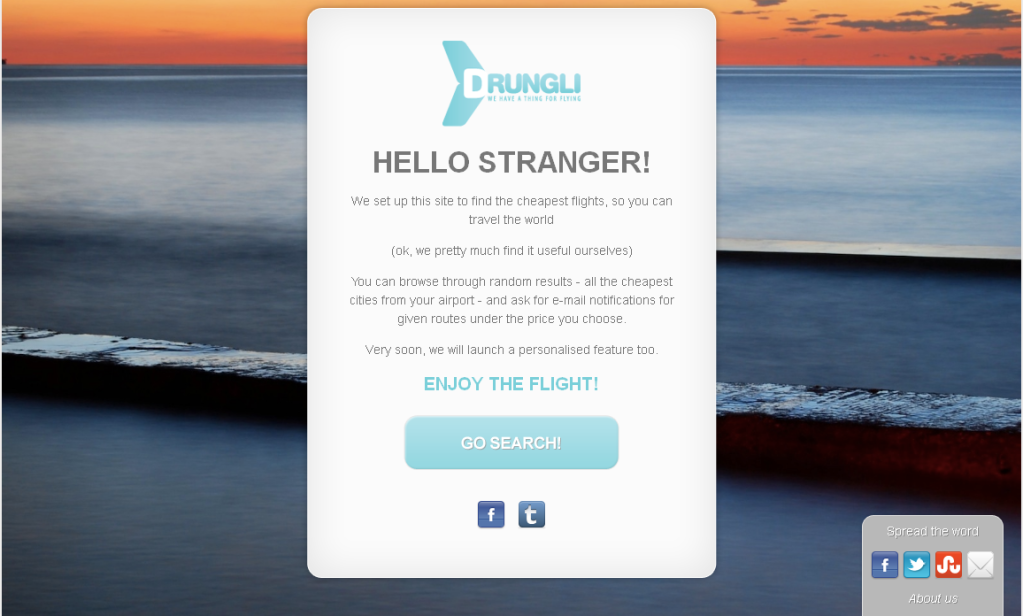 Even if its slogan is "Adventure generator for spontaneous people", it's a pretty good planning tool if you are the kind who can wait until two months before the holiday. The spontaneous part is the destination - that you cannot choose. All you have to do is fill out the city of departure and the date and then let Drungli take wherever it wants according to one single criterion: low prices.
For example, if you live in Paris, you can go on May 16 to Bergamo, Gerona, Manchester, Prestwick, Glasgow, Oslo, Santanter, Turin, and Zaragoza for 6.99 Euro, to Barcelona, Bologna, Budapest, Beziers, Pescara or Pula for 10.99 Euro, and for 17.99 Euro to Malaga, Gothenburg, Krakow, and Marseille. Not to shabby, is it? However, the prices do not include taxes and are valid for a one-way trip. For the trip back, you'll have to ask Drungli again. Maybe it will change your mind and take you somewhere else than home.